Edited by : Tareq Aljumylee
July 30, 2020
A United Launch Alliance Atlas V rocket with NASA's Mars 2020 Perseverance rover onboard launches from Space Launch Complex 41, Thursday, July 30, 2020, at Cape Canaveral Air Force Station in Florida. The Perseverance rover is part of NASA's Mars Exploration Program, a long-term effort of robotic exploration of the Red Planet.
Powering the mission will be done using RTG, so  what is RTG?
RTG stand for Radioisotope Thermoelectric Generator, it is an electricity generating device that uses an array of uniocouples to convert the heat released by the decay of a suitable radioactive material into electricity by the Seebeck effect. This generator has no moving parts.
It is worth mentioning that the efficiency of RTG barely ecced 7%.
Different radio-isotopes used as fuel , the selection is based on the mission life time as shown in the following table.
General overview of RTG shown below, the radioactive source referred to as GPHS (General Purpose Heat Source).
A breakdown view of the RTG shown below
The following figure shows the location of SiGe Unicouple
SiGe thermocouples in an RTG convert heat directly into electricity. Thermoelectric power generation requires a constantly maintained temperature difference among the junctions of the two dissimilar metals (i.e. Si and Ge) to produce a low power closed circuit electric current without extra circuitry or external power sources.[3][10]
A large array of SiGe thermocouples/unicouples form a thermopile that was incorporated into the design of radioisotope thermoelectric generators (RTGs) used in the missions Voyager, Galileo, Ulysses, Cassini, and New Horizons.[11] On these spacecraft, Pu-238 dioxide fuel undergoes natural decay. The SiGe thermocouples/unicouples convert this heat to hundreds of Watts of electrical power.[10]
References:
https://mars.nasa.gov/internal_resources/788/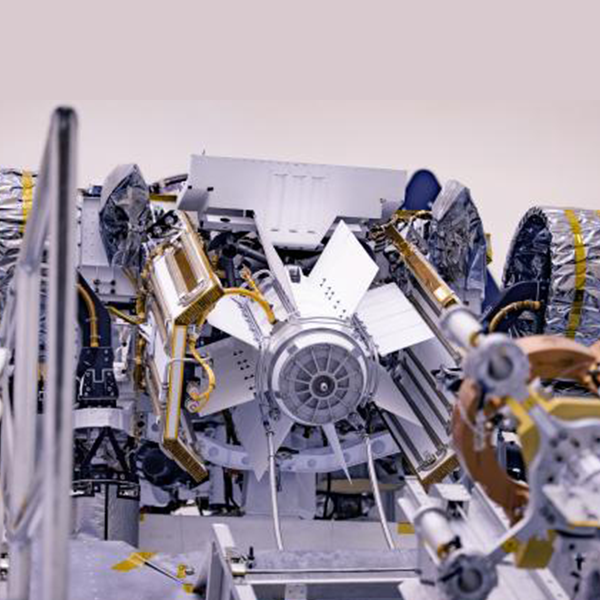 ---